Welcome to the Wayward Souls Wiki
Edit
The Wiki for the iOS game Wayward Souls, developed by RocketCat Games.
Click on the tab "Wiki Content" for a list of this Wiki's pages and links to each.
 About the Game
Edit
Wayward Souls is an action-adventure game built for quick playthroughs and massive amounts of replay value. It was inspired by Spelunky, Secret of Mana, and RocketCat's previous game, Mage Gauntlet.
Procedurally generated random levels mean that every time you play the game, it's a different experience. Control one of six characters, all with their own unique playstyles, abilities, and equipment. Explore and fight for survival, in combat where your tactics, positioning, and timing matter.
More Features:
- Fancy control scheme with no virtual buttons or sticks to fumble over.
- Unlock new areas, for increasingly punishing difficulty.
- 13 area types, all with different monsters, potential traps, and rare encounters.
- Each character can find equipment combinations that change their gameplay.
- Victory is based on your increasing skill as a player, not solely on grinding.
- Hats.
- No IAP ever, even for the hats. All content updates will be free for the fans.
- Unprecedented scope and variety for an action-adventure game on iOS, maybe anywhere.
iTunes Link: https://itunes.apple.com/nz/app/wayward-souls/id857555369?mt=8
Latest activity
Edit
Photos and videos are a great way to add visuals to your wiki. Find videos about your topic by exploring Wikia's Video Library.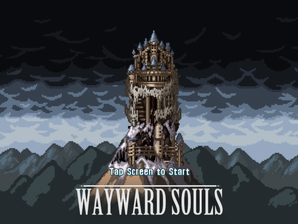 Ad blocker interference detected!
Wikia is a free-to-use site that makes money from advertising. We have a modified experience for viewers using ad blockers

Wikia is not accessible if you've made further modifications. Remove the custom ad blocker rule(s) and the page will load as expected.